ТЛ5 Titan circle, rod, sheet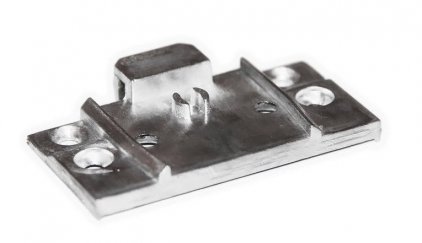 General information of alloy ТЛ5
Titan foundry alloy grade ТЛ5 designed KM research Institute «Prometheus» for marine conditions. It has corrosion resistance in seawater.
The advantages of titanium alloy grade ТЛ5
| Alloy | Technological properties | General characteristics | Application |
| --- | --- | --- | --- |
| ТЛ5 | Has good casting properties and easily welded. | has great strength in comparison with ТЛ3, but less ductile. | Tegelersee parts for turbine, welded structure, propellers. |
Since titanium has a low density, the weight of the structures compared with steel is reduced by 40%, this leads to a decrease in the load on the bearing assemblies, thereby increasing the life of the equipment. An important property of foundry grades of titanium is resistance against intercrystalline, crevice corrosion and cracking. Titanium alloys are resistant to soil, atmospheric moisture, sea, chlorinated water. They are stable in contact with acids in the environment of natural gas, petroleum, oil, aggressive industrial atmosphere, a hot solution of ammonia.
Optimization of properties
Recent studies have demonstrated the possibility of increasing the mechanical properties of shaped castings the method of forming bilastine structure by heat treatment. The wide α-plates have a layer of transformed β-phase. Heat treatment, which gives bilastine structure includes at temperatures of α+β-region annealing (after which the width of the beta-layer increases) and further cooling, which leads to the release of the thin α-plates with different orientations in β-phase, which effectively inhibits through the plate structure of the transfer slip.
Heat treatment
To form a laminated structure parts made accurate casting with subsequent gas-static treatment, produced their heating at t° 1050° C (β-region), and then cooled with a speed of 1°C/min. To achieve bilastine structure material was heated to 880 °C, then cooled at different rates from 15 to 8000°C/min. the Thickness of transformed β-layer with increase in cooling rate increased. In the final stage of processing, all samples were subjected to aging for 24 hours at a temperature of 500 °C for the formation of fine particles of phase — α-2.
Production
Titan foundry alloy grade ТЛ5 made according to OST 5P.9071−88. By increasing the cooling rate of the titanium casting alloys increases the yield strength, increasing the resistance a lot — and low-cycle fatigue.
Application
With the help of modern technology made possible the production of titanium products in different fields. relevant in the production of rebar different applications. Titan brand ТЛ5 indispensable for thelogitech parts of turbine generators, production of welded structures, propellers.
Quality control
The external mandatory inspection, testing mechanical properties of castings, chemical composition analysis. Such methods of quality control as gamma-scopy, x-ray, ultrasonic inspection, liquid-penetrate (fluorescent) control. Casting if necessary shall be tested under pneumatic or Hydrogenium. In order to avoid the hidden marriage, they are subjected to hot isostatic pressing, approaching the crystal lattice of the quality of forged metal.
Buy at best price
LLC «AVEK global» specializiruetsya the sale of heat-resistant and stainless steel alloys. To see more details with the products, specify its basic properties, place your order, you can contact the nearest office of our company. We offer titanium alloys from warehouses in Ukraine and Russia delivery on the CIS and abroad. All products are certified and available. The timing of orders is minimal. If you have any questions, you will receive detailed advice from experienced managers. For wholesale orders the company provides flexible system of discounts.