Titanium rods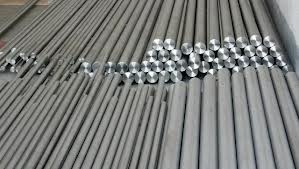 The main qualities of the titanium rod
Titanium is not subjected to the damaging effects of soil and atmospheric moisture, sea water, it is resistant to the action of chlorides, nitric acid, hydrogen sulfide. High specific strength and high corrosion resistance, heat resistance, ensure reliable operation in the most extreme conditions. Products of a rod able to withstand the pressure of hot gas in rocket nozzles and pressure of the column of ocean water. The titanium rod is widely used in industrial chemistry, due to its high acid resistance, corrosion resistance, and in the healthcare industry — thanks to the biological inertness. Almost its only disadvantage is high cost because of the complexity of production.
Production
Use the following brands: VT1−0, VT20, VT3−1, VT6, VT14, ВТ16, BT23], OT4, ПТ3 IN (chem. composition normalized OST 1 90013−81; GOST 19807−74). Dependent on the use of use various methods of manufacturing: forging, pressing, PVP (helical rolling), rolling varietal. The rod is random, and multiple dimensional measuring length with a maximum deviation within a random.
Random length:
0,5 — 4 m, Ø 10 — 18 mm
0,5 — 6 m, Ø 18 — 60 mm
0,5 — 2 m, Ø 60 — 150 mm.
Tolerances:
Ø 10 — 18 + 30 mm
Ø 18 — 60 + 50 mm
Ø 60 — 150 + 70 mm
Marking
The titanium rod is made of high and ordinary quality. High quality according to GOST 26492−85 marked «P», for example, FROM brand-4P. Standard quality products are produced without additional symbols.
Buy at best price
LLC «AVEK global» sells wire from titanium alloys at an affordable price. It is formed on the basis of the technological features of production without the inclusion of additional costs. We offer mutually beneficial cooperation for both retail and wholesale customers. We have the most variety of products for large-scale production. On the website avglob.org You will find all the necessary information. Our consultants are always ready to respond to current issues. Implementation of orders in the shortest possible time. Wholesale buyers are offered preferential discounts.