Kola MMC will hold the next upgrade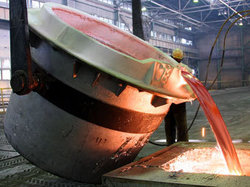 This time Kola MMC started construction of new paths. Rails will be laid on the industrial site, located in the city of Monchegorsk. The project has become a necessity against the backdrop of increasing volumes of manufactured products. Technological scheme of the refinery redistribution involves the use of rail transport to move raw materials. Also the path used to move intermediate products between different shops. They are produced at different stages of the production process. By means of railway transport is the shipment of products to customers. Reconfiguration of capacity at the production carried out in 2013. This period was adopted the updated Strategy of Kola MMC. Its main task is to reduce the negative impact on the surrounding world. Objectives include the reduction of operating costs.
Reconfiguration allows to increase the economic effect, accompanied by a reconstruction of the production. Now the modernisation programme is in active phase. The performance of the company in respect of production of Nickel increased by half. Area of Monchegorsk became the world's largest Nickel refining plant. It annually produces approximately 165000 tonnes of Nickel. Efficient operation of the transport and logic circuit provide an additional rail journey. They are built in your construction project. There are several stages of construction. Placed leaves are on four built-up areas. The total area reaches 9.6 thousand square meters. The length of the paths as a whole to reach 1.3 thousand meters. Rail-sleeper grid will be placed parallel to existing road. The total cost of the construction work will reach 27 million RUB.