The production of copper in Chile increased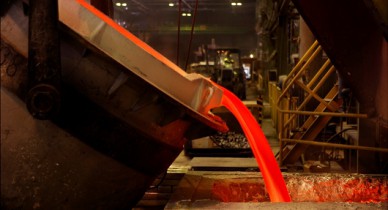 Chilean metallurgical enterprises retain the tendency to increase the copper production in 2017. Volumes of refined copper produced by mining and metallurgical company «Antofagasta», increased by 1.5%. The data are compared with the second quarter last year. As a result, the company produced approximately 174 thousand tonnes in 2017. The head of the company Ivan Arriagada expresses a more positive performance results of the copper sector in comparison with the second quarter of 2016. In particular, he singled out Centinela and Antucoya. The cost of production of refined copper has coincided with forecasts of experts. This means that the production plan for the current year remained unchanged.
The financial cost decreases due to productivity growth of the Chilean company. The projected tonnage of red metal experts estimate that in 2017 will be from 685 to 720 thousand tons. Productivity gains last year have settled at around 13%. Which is the 710 000 tons of copper products. The result of the productive process of the last year experts expect to get from 710 to 740 thousand tons of metal. The main reference point was the lower predicted value.
In the future it is also planned cooperation of Chilean and Japanese companies. In the project-copper mine in the North of the Corporation from Japan «Marubeni» owns 30%. The Chilean «Antofagasta», in turn, has 70%. Investors have invested in this project more than a billion dollars. In the year companies are planning joint efforts to produce about 86 thousand tons of metal. The growth of the Japanese Corporation for the supply of copper predicted will be about 150 thousand tons.