Nucor will increase the production of galvanized steel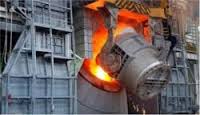 Nucor Corporation plans to increase production of galvanized steel. With this goal, the American company plans to implement its own construction project worth 176 million USD. Nucor plans to invest these funds in-line hot-dip galvanizing, etching. Construction works will be carried out at the plant of the Corporation Nucor Steel Gallatin. It is located in the state of Kentucky. Annual production capacity will be 500 thousand tons. The main products that will be produced with its help — galvanized sheet. Its width is up to 72 inches. American metallurgical industrial sector is the highest rate. Commissioning of the new equipment is scheduled to produce in the first half of 2019.
At the same time representatives of the Corporation say that the launch of the new galvanizing line will not cause the growth of the company. Today this figure reaches 1.45 million tons of sheet hire a year. The main aim of the project is increasing the share of high added value in the choice of goods. For example, consider a galvanized steel produced by new line. It is planned to supply to American automotive companies.
Another project of the Corporation was implemented in late may. Nucor has made an order heating furnace with walking hearth furnace from SMS Group. The equipment was designed for a mini-plant located in Ohio. Equipment supply — the first stage of the modernization project. The cost is 85 million USD. With the successful implementation of the project the output of long products will amount to 400 thousand tons. Over the last decade, the SMS Group has put the us steel industry heating furnaces 11. Two of them were on the business of the Corporation.