Norilsk Nickel will build a new flue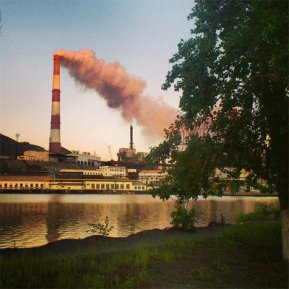 Norilsk Nickel is going to do the construction of a new flue. It will be mounted at the Monchegorsk industrial site of Kola mining and metallurgical company. The new device will be replacing the existing flue. It is the movement of gases from the steel plant to the refining — its sulfuric acid production. According to preliminary calculations the cost of the project will reach 400 million RUB. This amount is planning to invest Norilsk Nickel, focusing on implementation of the project. The construction of a new flue is another step in the ongoing activities concerning the implementation of the developed strategy of development of Norilsk Nickel. Construction equipment is a task of upgrading facilities. This method achieved the reduction of the negative impact on the environment.
An existing channel movement of gases was commissioned in 1979. To date, its technical resource is completely exhausted. This fact has caused the need to replace equipment. New flue is planned to build on the Foundation supports. The length of the duct exceeds 1000 meters. To increase the wear resistance of the metal of which the duct will produce, will be produced by its lining with polymer concrete. This material has high thermal and chemical stability, mechanical strength. Also, it is perfectly resistant to cold, resistant to acids, good adhesion to the surfaces of the processed metal structures.
Today, already worked out the route of the flue. Also defined the project's contractor. They became the engineering center teplostroy. This year is planned to conduct geotechnical investigations. Then teplostroy the company will provide basic technical stages of the construction of the flue. Construction is set to begin in 2018.