The rising cost of Nickel does not stop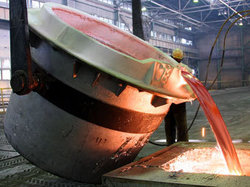 Despite the Indonesian ban, restricting the export of ore and concentrates from the country, and despite a growing world demand for Nickel stocks of metal in warehouses of the London metal exchange since January of this year reached a record high of 326 466 tons. However, the specialists of the company «Goldman Sachs» talk about the impossibility of constructing an accurate picture regarding the supply and demand, taking into account the movement of metal from the Australian and Chinese warehouses. 44% increase in Malaysian stocks, in particular, in warehouses Johor Bahru is about 164268 tons, accounting for about 50% of the volume of stocks of the London stock exchange. Stocks of the Netherlands, stored at the port of Rotterdam, are 107034 tons is approximately 33% of London supplies.
Considering the situation, analysts at Goldman Sachs believe that the surplus of Nickel in the world market this year will reach the mark of 20,000 tons, however, in 2015, the inevitable shortage of metal in an amount of about 210000 tons. Thus in 2003, the excess amounted to 150,000 tons. Before the end of this year as Nickel and zinc will increase significantly in price — this forecast was made investment Director of «Citrine Capital Management», Paul Kron. In particular, the cost of zinc can reach to 2.5−2.7 thousand USD per ton, the price of Nickel will rise to the level of 23 thousand USD per ton — as you can see, the Indonesian ban continues to have a stable impact on the world Nickel market. Paul Kron confident in the scarce market of zinc to the beginning of the second half of 2015 and motivates the forecast time lag between the closure of old mines and opening new ones.
Meanwhile, the price of Nickel on the London metal exchange rose to the level of 4хнедельного the maximum of such a dramatic increase occurred after the publication of the information on the possibility of introduction of the new Indonesian draft law, which envisages a complete taboo for the export of any mineral, without any exceptions. Since the beginning of 2014 the price of Nickel increased by 37% thanks to the impact of Indonesian export if the conditions become more stringent, we can safely say about the next leap up the value of the metal. On the London stock exchange Nickel futures continued to rise in price — September 3, their prices have reached a level of 19075 USD per ton.