The company "General Nice Investment" and the company "TALCO" is ready to cooperate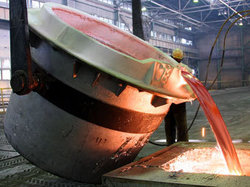 Tajik company «TALCO» and the Chinese company «General Nice Investment», founded in 1992, signed the agreement on joint construction of new enterprises based on the production of 2 types of blocks of the cathode, of the bottom and side, intended for the manufacture of aluminum products. According to preliminary estimates, the construction of the joint venture will need to invest about 30 million USD. Full project implementation will require about one and a half years since its inception. Specialists of the company «TALCO» we expect that at the initial stage, the annual capacity of the JV will amount to 30000 tons of blocks, in the case of successful operation, the volume can be reduced to 50000 tons. The new facility will be built on the site of a plant for the production of aluminum, the resulting products are expected to be used not only for metal production in Tajikistan, but also to send units to Russia and other countries.
For the company «General Nice Investment», the headquarters of which is located in Hong Kong, the main activity is the development of coal production and resources, as well as trade and logistics. However, the desire to invest in aluminum is quite understandable, given that throughout 2014, the cost of light metal has consistently increased — in January, the price per ton was USD 1771,2, while today it exceeds 2087 USD. Perhaps this is not the limit, given the global market deficit of this metal. According to analysts this year, it will amount to about 61,000 tons, while last year saw a surplus of aluminum on уровне580000 tons. Next year, the shortage may reach 493000 tons.
«TALCO» only wins from such a situation — according to Igor Sattarova, Director of the company, the growth rates of light metal in her hand as having a positive impact on production and operation. Simultaneously, the management of the company by pursuing long-term prospects, is going to modernise production and to speed up the transfer of production processes on its own raw materials. A Swiss Corporation, «Glencore International AG» is ready to provide «TALCO» support for technical re-equipment, as in the beginning of August, said its Director, Andrew Kaplan.