Ferroalloy enterprises in Ukraine are increasing capacity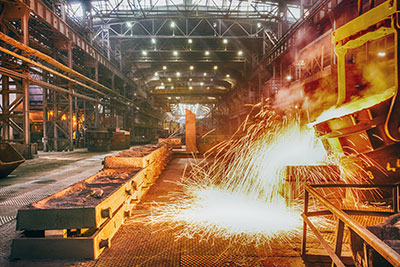 NFP (Nikopol Ferroalloy factory in Dnipropetrovsk region), the leading enterprise in Ukraine on production of ferromanganese and silicomanganese, according to the summary results for the period from January to July 2014 increased the production figures by 21.2% compared to the same period of last year to the level 336,5 thousand tons. According to the data provided by the Ukrainian Association of producers of ferro-alloys (Ukrainian Academy of pharmacy), manufacture of ferromanganese increased by 24.8% and amounted to 28.2 million tons, the production of silicomanganese increased by 20.9% to 308,3 thousand tons.
The results of the period can not but rejoice, considering that last year nikopolskoe manufacturing has reduced capacity by 36% compared to 2012, receiving the output in the amount of 421 thousand tons. In this issue of silicomanganese over the past year decreased by 29.1% and amounted to 393,5 thousand tons, production of ferromanganese decreased by 73,3%, to 27.5 thousand tons.
ZZF (Zaporozhye plant of ferroalloys) also accelerates the rate of production for seven months of the current year, production of ferroalloys increased by 48.6 percent relative to last year's figures for the same period to the level of 191,4 thousand tons. In January-February the plant has not performed work in connection with the high cost of electricity. According to data provided by Ukrainian Academy of pharmacy, the production of ferromanganese increased by 19.3% (to the level of 32.8 thousand tons), production of silico — 50.5% (to 132 thousand tons), ferrosilicon production increased 2.9 times, to the level of 26.5 thousand tons. Manganese metal in this period were not issued, while the same period last year the volume of output amounted to 4.5 thousand tons. For the period from December 2012 to March 2013 ZZF output not produced due to the unprofitable activities, given the electricity tariffs at the time.
Last year production growth of products of Zaporozhye Ferroalloy plant made up 49.9% compared to 2012 — RR 298.2 thousand tons. Of these, the increase in the production of silico-manganese 58.4% (205,7 thousand tons), ferromanganese and 3.3% (about 56.1 thousand tons), production of metallic manganese fell by 51%, to 7.2 thousand tons. The released volumes of ferrosilicon amounted to 26.2 thousand tons, while in 2012 this product range was carried out. Exports of ZFP produced in Asia, Africa, the EU and the CIS, manganese ore production comes from Brazil, Ghana, Russia, Australia and Poland.