"ArcelorMittal" has adjusted the previous forecast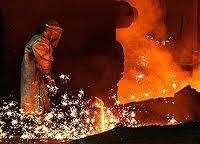 A world leader in the production of steel company «ArcelorMittal», has revised its previous forecast for pre-tax income, EBITDA, taking into account the reduction in the cost of iron ore, which adversely affected revenue from the mining activities of the company. If earlier representatives of the company suggested that before the payment of the obligatory payments profit rate will be about 8 billion USD, but now, after tax payments, payment of amortization, depreciation and interest payments, the profit is unlikely to exceed 7 billion USD.
Analysts of «StarMine," which refers to the Group «Thomson Reuters» dealing with the adjustment of the analytical predictions, given their background, given the result in the amount of 7.5 billion USD, putting on decrease the original strap due to lower production levels. According to Ingo Sahale, analysis «Commerzbank», even if no one believed in the realization of profits in the amount of 8 billion USD, the new data were even lower than expected by the market. By assumption Aditya Mitella, financial Director of «ArcelorMittal», reducing the cost of iron ore is largely influenced by demand from China, which was lower than projected, and increased supply in 2014. Also the specialists of «ArcelorMittal» has adjusted the estimated price of iron ore this year from $ 120 USD/ton, up 105 USD/ton. For the period from July to December, the average projected cost of ore $ 100/ton.
Despite the fact that produce volumes of products of «ArcelorMittal» is almost two times higher than the competing company «Nippon Steel», the company is confident about the promotion of business. In this regard, the forecasts for demand from the US and Europe will be increased even though they are shipped around 2/3 of all deliveries. According to Aditya Mitella company with enough optimism refers to the world economy, assessing the prospects of development of different countries. «ArcelorMittal» has left unchanged the forecast regarding the growth of world consumption of steel products, which amounted to 3−3,5%.
In General, the production of stainless steel in the world in the year $ 40200000 tons, higher than last year's results by 5.7%. The analysts believe that production growth will affect all regions and countries. The volume of Chinese production will account for more than 50% from the total amount of 20.2 million tons of steel.