Mechel OAO: deal with the "Yildirim Group" completed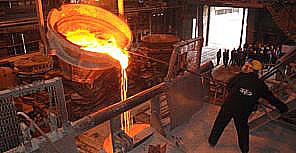 According to data provided by Interfax, open Joint stock company Mechel has completed a deal with Turkish company «Yildirim Group» for the sale of its owned Ferroalloy assets. The cost and processing plant Voskhod in Kazakhstan, and «Tikhvin Ferroalloy plant» in Russia amounted to 425 million USD. Funds received by the company «Mechel» from the sale must be used to repay outstanding loans.
Consultants from the part of «Mechel» at the conclusion of the deal were Societe Generale Corporate and Investment Bank, Dechert LLP, and ING Bank. The agreement of sale was signed by participants in August 2013.
Field «Sunrise», «Shevchenko» (production of Nickel in Kazakhstan) and Joint stock company «TFZ» («Tikhvin Ferroalloy plant») was part of the company Oriel Resources, which in 2008 acquired Mechel OAO. Acquired entity «Sunrise» and «Tikhvin Ferroalloy plant» was originally planned to prepare for the sale in accordance with the new holding strategy. At the moment all Ferroalloy production facilities of JSC «Mechel» (in addition to the «TFZ», «Sunrise» and «Shevchenko» is «Bratsk Ferroalloy plant and southern Urals Nickel plant») merged into the company Oriel Resources Ltd.
«Yildirim Group» is a Turkish private group, consisting of companies representing ten industries in various countries around the world. This group belongs to the company «Eti Krom Inc», one of the largest enterprises in Turkey specializing in the production of chrome ore and ferrochrome of the highest quality. The group also owns a plant for the production of ferrochromium «Vargon Alloys Ab», which can safely be called one of the oldest ferrochrome plants in Sweden. «Yildirim Group» is the largest company for the production of lumpy chrome ore and the second producer of ferrochrome.
Deposit area, «Sunrise» is mining and processing plant from mine ore mining and processing factory to obtain chromium concentrate and ore. Ore reserves are estimated at about 20.3 million tons of ore.
«TFZ» — «Tikhvin Ferroalloy plant» is able to produce up to 120 thousand tons of high carbon ferrochromium, which is used in the manufacture of stainless steel. As a production raw material, the plant uses the chrome ore concentrate, which in turn produces GOK Voskhod.