Small coins of stainless steel will not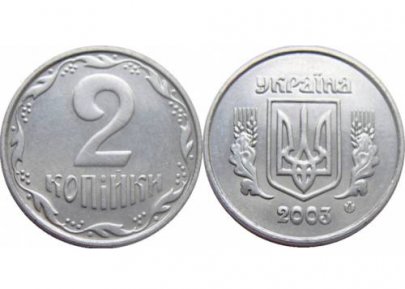 In the coming year the national Bank of Ukraine will cease the minting of coins of 1 and 2 pennies. Their coinage of stainless steel is costly to the state. While currently developing a design duhsevnoe coins. As for small coins, their production became unprofitable. Main causes are not only domestic, though they have played an important role. One or two pennies today, it is absolutely impossible to buy something. But economic reasons are the coins minted from stainless steel of high grade, and one coin has a cost of about 15 cents. And when you consider that one hundred coins weigh 15 kilograms, it is easy to guess why Ukrainian little thing often trafficked abroad as valuable scrap.
Experts say that economic losses from minting and collection and counting of one — and dvuhkopeechnaya coins is about 5 million USD a year. Citizens will perceive this news positively, as penny has now become very difficult to pay. Moreover, prices do not rise, but only to be rounded to five cents, so that the sellers could give change. Unhappy with this news for marketers, because now on a variety of goods, you cannot put the price with the numbers 49 or 99 after the decimal point, and numbers have to be rounded. For example, this marketing ploy is often used by supermarkets, putting on price tags, the number is 99.99, which is equal to almost 100 hryvnia, but subconsciously the buyer perceives the price as lower. Representatives of advertising and trade believe that for this reason can drop the sales of all product groups — food products, household appliances, medicine, clothing, shoes and so on.
Current hryvnia was introduced into circulation over seventeen years ago, in 1996. However, a separate circulation of the coins were minted in advance. Coin Ukraine minted countries such as Italy and the United Kingdom. At the moment these coins minted domestic enterprise Lugansk cartridge plant. Now one hryvnia of issue 1992 is worth about three thousand hryvnia. And various commemorative coins -much more expensive, but to get them hard. According to experienced numismatists, every citizen of Ukraine is potentially the owner of a large fortune, but doesn't realize it. Using this, the scammers give the announcement of the acquisition of such money for next to nothing and resell for a few thousand dollars.