"Corporation "Kazakhmys": modernization of production is not far off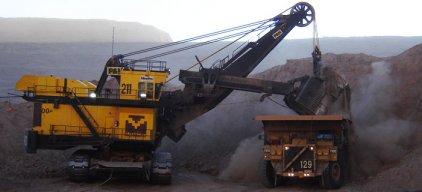 According to Bolat Zhamishev, Minister of regional development of Kazakhstan, the production performance of a Limited Liability Partnership «Corporation «Kazakhmys» Zhezkazgan at the field dropped significantly, because in recent years the amount of raw materials decreased and now stands at 19 million tonnes, while earlier, «Kazakhmys» produced nearly 28 million tonnes. The content of copper ore is reduced by half, which, consequently, led to a decrease in the volume of copper production.
Zhamishev says about what the industry determines the economy of the district, and as an information system, which shows the stability and social climate is the level of development of the industry. The Zhezkazgan region is the centre of metallurgy, however, against the background of the situation you can talk about the low level of industrial development, and the dependence of the economy of the region from the market demand for the metals.
Data provided by the Minister, point to the fact that in addition to the depletion of both qualitative and quantitative factors affecting a decrease in the level of production, is the complication of the geomechanical situation in the fields. Also their negative influence and the lack of effectiveness of technologies for the extraction of ore that do not have time to adapt to the deteriorating mining conditions of work.
Then Bolat Zhamishev announced the experts of «Corporation «Kazakhmys» that work at the Zhezkazgan Deposit on the technologies existing at the moment, is unable to achieve the desired production efficiency. Besides, under the circumstances, the duration of activity of the complex is unlikely to be more than 13 or 15 years.
Considering all factors, LLP «Corporation «Kazakhmys» plans to carry out a complete modernization mining and processing complex, located in the Zhezkazgan Deposit, as reported by Eduard Ogai, performing the role of Chairman of the Board, too. The Corporation is engaged in attracting investments, which are necessary for the possibility of upgrading the complex, and it is planned to improve more than one extraction of raw materials, but also the production of metals. The company plans to further apply to the hydrometallurgical production method that will enable more cost-effective to engage in the smelting and production of raw materials.