Import steel and aluminum other countries – a threat to the United States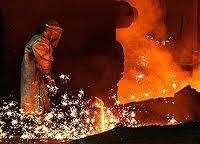 According to the American President, manufacturing of steel, aluminum raw materials of the States collapsed. This is due to the fact that the US is mostly sold for the cheap price of imported steel, aluminum. This caused the destruction of the steel industry in the United States. In particular, reduced the number of employees in the production of steel, aluminum. The US President has stated that we need to support our own production of steel, aluminum raw materials.
The situation with the production of these metals is not so bad, as trump suggests.
For example, in 2016 the value of the shares of the two largest manufacturers of steel raw materials the United States increased for the first time in 10 years.
Trump noted that in the production of private become played the role not of prices. From the metal production the country's defense. Steel fabrication has the effect of ensuring national security of the United States.
In particular, steel fabrication plays a significant role in the defence of the state. For the production of the defense industry used about 5% steel. Aluminum production also plays an important role in the military sector. Because the metal is a key material used in the creation of jet fighters, shipbuilding.
It is still unclear how America will treat its allies. For example, to Canada. Because Canada imports in the US, 6% steel, 42% of aluminium. Maybe the US administration will rule this country for the sake of national security. Since aluminum and steel of Canada is used in the creation of the military equipment of the United States.
It is unknown what the outcome will be when the views of the President of the United States for the production of these metals. However, one thing is clear that would limit the importing of steel and aluminum. This may increase the cost of steel and aluminum for domestic buyers.