Ukrainian steel producers promise to increase the August figures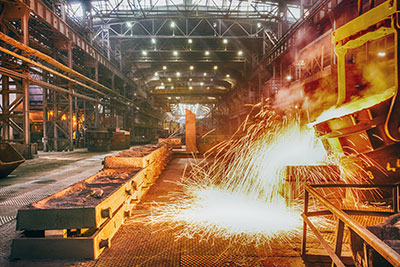 According to data provided by the management, indicators of steel production in June this year, the company «ArcelorMittal Krivoy Rog» in comparison with the same period last year increased by 4%, reaching a volume in 556,1 thousand tons. In the same period, production of steel increased by 12.9%, amounting to 497,3 thousand tons, while pig iron output increased by 6% to 490,3 thousand tons. However, if you compare semi-annual period of 2014 with the same period in 2013, we can state the reduction of production capacity — crude steel production decreased to 3 033 million, 3 thousand tons, which is below the previous reading of 2.8%. The production of rolled products fell by 1.8%, amounting to 2 million 675,2 million tons, pig iron decreased to 2 million 670,1 thousand tons — this figure is below the previous 1.5%. The average salary for June of this year has increased to the level of 6064,5 UAH. 5477,00 against UAH. over the same period last year.
Despite the overall decline, they are quite high, which is not surprising considering the data of the company «ArcelorMittal» is the manufacturer, at least 10% of world steel production and operates more than 60 countries. The former enterprise «Krivorozhstal», also owned by corporations and has now been renamed «ArcelorMittal Krivoy Rog», focus on smelting steel, cast iron, finished steel production, sinter and other types of products. The share of exported products of the enterprise amounts to about 90%.
According to statistics, the volume of production of stainless steel in the world market during the first quarter of this year increased by 6.8% compared to the same period of last year, for the period from January to March amounted to 10,22 million tons. The global volume of released a stainless steel production in 2013 exceeded the 2012 figures by 7.8%, which amounted to 38,1 million tons. These data correspond to the forecasts of analysts, who promised to increase output of stainless steel in 2014 compared to 2013 at 3.6%.
The Ukrainian steel producers, according to the Ukrainian Association in August 2014 are going to increase production by 3.2% against the planned target of July. If producers can fulfil their obligations, production volume will amount to 2.6 million tons. Production of steel rolled according to preliminary estimates, will increase by 4.4% to 2,350 million tonnes, pig iron output will increase by 3.2% to 2.55 million tons.