Bronze art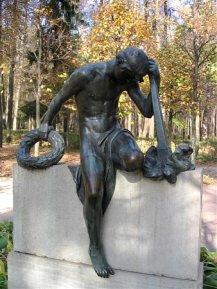 From ancient times, bronze was popular in various areas of art. Decorative sculpture, casting of bells, inlaid wood and bone Handicrafts are not complete without a unique alloy with a mass of useful qualities. Such popularity is explained quite simply by the fact that castability of the material make it easy to reproduce the smallest details of the sculpture. In turn, the high viscosity characteristics, elasticity and plasticity provide the possibility to manufacture bulk product with a significant protrusion of structural elements without the aid of additional support devices or separation of structural elements. Also the unique properties of bronze alloy give the opportunity to get a lightweight hollow casting.
Among other things, works of art made of bronze with time under the influence of the surrounding atmosphere becoming resistant noble shade, which is also known as patina. The tone of the patina depending on the time of exposure to oxygen on a bronze object and the additional conditions in the room may vary, from greenish and dark-brown color to the black resin color. Additionally it should be noted that this material is easy to types of chemical weathering such as gold or platinum finish.
To date, there are many areas of high art and folk crafts, where the demand for bronze. Among the most popular destinations to celebrate stamping, fabrication prints, art forging and many more. Various processing of the finished products allows us to vary the structure and color palette of bronze material. Exquisite sculptures of unusual and easy processing of alloy began to make even the ancient Egyptians three thousand years before our era. For the production of pre-prepared leaf shape out of clay, of closed type, which follow the contours of the original model. To ensure unity of shape, the joints a round object sealed tin box, and all the irregularities of the butt joint was smoothed with coinage. In China, where bronze appeared a thousand years later, a special perfection was reached by the technology of polishing of mirror surfaces of bronze. Even now massive frame, with ornate made of an alloy of copper and tin or intricate vintage candle holder with elegant patina, a few people will not touch to the very depths of the soul.