On "Atommash" Production of new sections of piles for the oil production platform began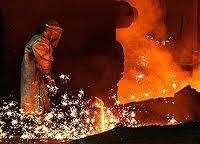 «Attomash» is the Volgodonsk branch of «AEM-technology». Piles were started on it. Whole sections of them are necessary for the oil producing offshore platform. So, Atmash has already installed welding materials. Also metal rolling is installed. In some areas the work is in full swing. Metal rolling is cut and everything is controlled to avoid destruction. Simultaneously, shells are made. They need to strengthen the piles in the section.
The diameter of the pile is more than 2 m. According to the contract, the enterprise should produce approximately 1.2 thousand tons. Then the equipment will go to the Block-Conductor platform. It is located in the field of. V. Filanovsky. The deposit itself is located in the Caspian Sea. Piles are necessary to achieve the stability of the entire structure. They are a kind of the most important nodes in it.
The Russian Maritime Register of Shipping will monitor the manufacture of products. Together with it the control will be made by the company Oil States. This project is very important for AEM-technology. He will strengthen the business relations of her and the Oil States, which are distinguished by the mutual benefit of the parties. The latter actively develops the shelf of the Caspian Sea. Atommash has all the necessary modern equipment. The enterprise is able to produce quality products. Many years of experience are in tandem with modern technologies. In addition, all the requirements put forward by the customer are taken into account. In total for the last 6 years the enterprise produced 9 thousand tons. All of its products are actively used in the construction of offshore oil production platforms. It has proved its durability and durability. This is important, given the specifics of working on such platforms.